Here is a the first preview version of Gulpman for Linux (x86/x64), Mac (10.6 or later for Intel and 10.5 PowerPC) and Windows (x86).
The code is totally new, however the mazes, screen layout, instructions, movement, speed and graphics are close to identical to the original, with the exception of the title screen. We've also added more controls - arrow keys and WASD+Space key controls to the original 56780.
The 'grumpy chaser' (monster) movement routine do not use the same algorithm as the original, but a new version written before Rob analysed the original code.
We are certain v0.01 has problems and, in fact, there are a few items still on the bugs list. (See the Gulpman FAQ).
For game copyrights see title screen.
Notice: John Campbell, the original 1982 author, kindly allowed us to distribute provided not for private or commercial gain, and you are also limited by this agreement. We also don't mind redistribution on the same terms, as long as the application remains intact, especially the copyrights and web site link.
Downloads
v0.01g - Public Test Versions
If you have problems or want to contact us, see the Gulpman FAQ.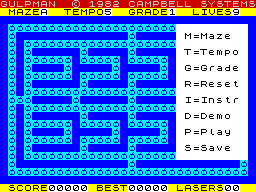 Original Spectrum game captured by zxsp, cropped with www.online-image-editor.com